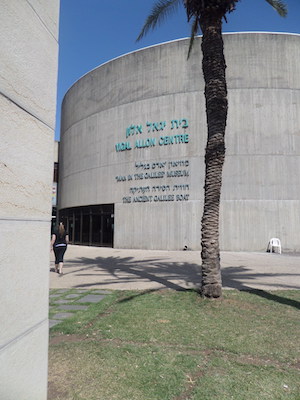 This collection began with photos taken during a Duke Divinity School tour of Israel during May of 2016.
Kibbutz Ginosar is located just north of Tiberius on the shore of the Sea of Galilee. It is the site of the Yigal Allon Museum, which houses a boat that was discovered during the drought of 1986 and which is dated to the first century, CE. The boat is sometimes designated "The Jesus Boat" by Christian patrons of the museum because it is from the century in which Jesus ministered in the Galilee region.
While every effort has been taken to correctly identify photos and catalog them using accurate keywords and metadata, complete accuracy is difficult to achieve. Corrections are most welcome. They may be sent, along with the static URL of the photograph for which the modification should be made, to the Duke Divinity School Library at divlib@duke.edu.
Citation Guidelines
Preferred citation for the digital version:
[Identification of item], [Photographer],Kibbutz Ginosar, Israel. Religious Art, Architecture and Archaeology Photo Archives. Duke Divinity School Library, Duke University. [Item URL].
Copyright Information
Photographs in this collection are made available by a commercial use prohibited, attribution required, share alike, creative commons license (CC BY-NC-ShareAlike).