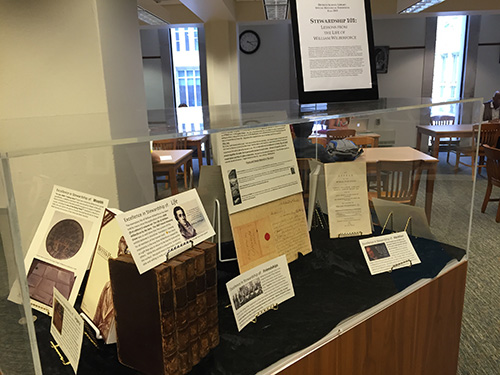 The Divinity School Library was pleased to receive a special historical exhibit for the 2015 Fall semester from Mr. Bill Tetreault of Freeport, NY. The pair of display cases in the Jordan Reading Room contained historical materials related to the life and influence of William Wilberforce (1759-1833), English politician, philanthropist, and slavery abolitionist. The first display ("Stewardship 101: Lessons from the Life of William Wilberforce") focused on the theme of "stewardship" in Wilberforce's career—whether of finances, time, or influence—as a means of attaining his goals. The second display ("Setting the Captives Free: Women of the Abolition Movement") highlighted the important contributions women made to the abolitionist movement on both sides of the Atlantic.


Citation Guidelines
Preferred citation for the digital version:
[Identification of item], Fall 2015 William Wilberforce Historical Exhibition, Digital Version. Hosted by Duke Divinity School Library, Duke University. [Item URL].