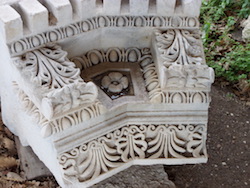 Alexandria Troas is located on the western coast of Turkey. During the Roman era it served as a significant port. According to Acts, the city was visited by the Apostle Paul.
The photos in this collection were taken by Duke Divinity School faculty member Dr. Beth M. Sheppard during a research trip in 2014. A non-professional photographer, she used a simple "point and shoot" Samsung with a built-in 10x optical zoom.
While every effort has been taken to correctly identify these photos and catalog them using accurate keywords and metadata, given that there was little to no signage at Alexandria Troas and much of the site has not been developed for visitors (or even extensively excavated), complete accuracy was difficult to achieve. Corrections are most welcome. They may be sent, along with the static URL of the photograph for which the modification should be made to the Duke Divinity School Library at divlib@duke.edu.
Citation Guidelines
Preferred citation for the digital version:
[Identification of item], [Name of Photographer],Alexandria Troas. Turkey: Archaeology and Religious Sites Duke Divinity School Library, Duke University. [Item URL].
Copyright Information
Photographs in this collection are made available by a commercial use prohibited, attribution required, share alike, creative commons license (CC BY-NC-ShareAlike).